The Royal Astronomical Society of Canada and the Royal BC Museum present
International Astronomy Day
at the Royal BC Museum
Saturday, April 27, 2019
Amazing Astronomical Activities for all Ages!
---
All Astronomy Day activities are FREE and available to the general public. Membership in RASC is not required.
Regular admission applies to the Royal BC Museum and IMAX Theatre.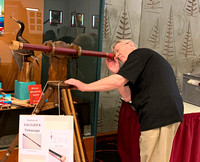 ---
Royal BC Museum – 10AM to 4PM
675 Belleville Street, Victoria
Interactive activities outside on the plaza

View the Sun safely through solar telescopes (weather permitting)

Interactive activities inside in Clifford Carl Hall (Museum main level)

Telescope-making – grind a mirror and build your own telescope
Telescope show-and-tell – try out telescopes and ask questions
Astrophotography – take photos of the night sky with your own camera
Children's astro crafts – kids make their own astronomy and space souvenirs
Ask an Astronomer – find answers to those questions about astronomy and space you always wanted to ask
Light-based Science – light is energy, and energy is a big part of our Universe
Responsible Lighting – get pointers on how to reduce your own light pollution, and feel better for it
Planetarium – cruise the night sky during the day while sitting on a couch
Presentations in Newcombe Auditorium
Observatory Hill, 5071 West Saanich Road, Saanich
Plaskett telescope tours
Observing through telescopes
Lecture – 8:30PM & 9:30PM – Science & Storytelling: How discoveries of new worlds help tell stories of family – Elizabeth Tasker and Ria Voros
Only holders of (free) tickets will be admitted to this evening event!
Click Here to Reserve Your Tickets – currently sold out, but click the link to check back later!