In Memoriam
Timo Markkanen
It is with sadness that we announce the sudden passing of RASC Victoria member Timo Markkanen on Dec 29th 2015. Timo was frequently found perched on a special stool at Astro Cafe. He made many interesting contributions to the discussion and he was looking forward to mastering the use of his recently acquired telescope. The stool at the Cafe, now vacant, will remind us of Timo. He will be missed by his many friends in the Astronomy Community.
John McDonald, Chris Purse, Reg Dunkley and Joe Carr attended Timo's Celebration of Life, held on Jan 16, 2016.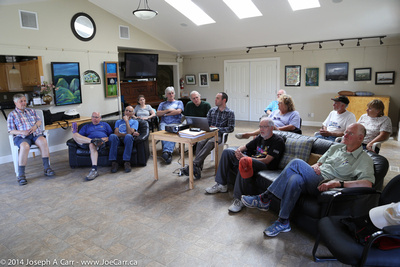 ---
Timo H. Markkanen (April 09, 1951 – December 29, 2015)
Timo Henrik, (Kylmaniemi) born 1951-04-09 in Helsinki Finland.
Timo passed away Dec. 29th, 2015 at RJH with friends at his side. Survived by half bother Teuvo Kylmaniemi and half sister Vappu Koivuniemi in Finland. Timo had many friends in Victoria and abroad. He was an avid sportsman with natural athletic ability and excelled, in his early years, at many sports including tennis, golf and darts. His early working career in the hospitality industry allowed him to take many trips abroad where he developed many lifelong friendships. His later working career was with the provincial public service.
Timo had many life interests. He was a member of the Royal Astronomical Society of Canada -Victoria, Member of HTML Writers Guild, he loved books and was a punster extraordinaire creating many laughs and even more groans to the joy of those who knew him. For thirty years Timo suffered from Ankylosing Spondylitis. As was his nature he met the challenges this presented in a positive manner and became a founding member and Web administrator for www.kickas.org a source of support and information for those suffering from this chronic arthritic condition. His friends admired his resilience and courage in this battle.
As per Timo's wishes a Celebration of Life will be held on Saturday Jan. 16th at Smugglers' Cove Pub, 2581 Penrhyn St. from 1:00Pm to 4:00PM. Timo would be honoured by donations in his memory to www.kickas.org.
Published in The Times Colonist on Jan. 5, 2016