News Release 14 October 2014
RASC Victoria Plans Viewing of Solar Eclipse Thursday October 23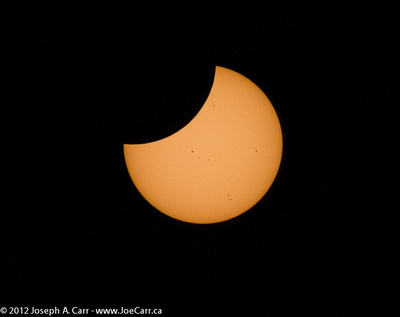 Members of the RASC Victoria Centre plan to have their telescopes and viewing equipment out on Mount Tolmie for the solar eclipse that will be visible from Victoria the afternoon of Thursday, October 23.
The Moon will move across the face of the Sun as seen from Victoria starting at 1:32 p.m. that day and ending at 4:19 p.m. At the midpoint of the eclipse at 2:58 p.m., about 55 per cent of the Sun's surface will be covered by the Moon as seen from Victoria.
It is most important to note that solar eclipses should only be viewed only through specially filtered telescopes or filtered glasses. Looking at solar eclipses without this equipment could result in serious damage to the eyes.
All RASC members will use the proper filters when viewing the eclipse. It should also be noted that even with more than half the Sun being covered, the eclipse will not be noticeable to people who are not viewing the Sun.
RASC Victoria members will gather on top of Mount Tolmie to view the eclipse if weather permits throughout the length of the eclipse, and it is possible that RASC members may set up their telescopes elsewhere around Greater Victoria. Telescopes will be fitted with solar filters, and glasses with solar filters will be available for use.
For more information, contact: Sid Sidhu 250-391-0540
If you are observing on your own, here is an information brochure.