The Royal Astronomical Society of Canada and the Royal BC Museum present
International Astronomy Day
at the Royal BC Museum, virtual online, and Observatory Hill, Victoria, BC, Canada
Saturday, May 7, 2022
Amazing Astronomical Activities for all Ages!
Press Release – contact Randy Enkin, President (email)
---
Royal BC Museum – 10AM to 3PM – event
675 Belleville Street, Victoria
Interactive activities outside on the plaza

View the Sun safely through solar telescopes (weather permitting)

Interactive activities inside in Clifford Carl Hall (Museum main level)

Telescope show-and-tell – try out telescopes and ask questions
Astrophotography – take photos of the night sky with your own camera and see our members' work
Children's astro crafts – kids make their own astronomy and space souvenirs
Ask an Astronomer – find answers to those questions about astronomy and space you always wanted to ask
Responsible Lighting – get pointers on how to reduce your own light pollution, and feel better for it
Public Lectures in Newcombe Auditorium
10:30AM – Tracking the Moon for 30 Years – Randy Enkin, President, RASC Victoria Centre
11:30AM – Observing the birth of planets in the universe – Ruobing Dong, Physics & Astronomy, University of Victoria
12:30PM – Cosmic Collisions and the Fate of the Milky Way – Mallory Thorp, Physics & Astronomy, University of Victoria
1:30PM – Demystifying Machine Learning – Karun Thanjavur, Physics & Astronomy, University of Victoria
---
Please Note:
All Astronomy Day activities are FREE and available to the general public. Membership in RASC is not required.
Regular admission applies to the Royal BC Museum exhibits and IMAX Theatre.
A concise handout for beginners: Interested In Astronomy?
After visiting our Astronomy Day in Victoria event, please let us know what you thought – survey – thanks!
We host public events with measures in place to reduce the risk of COVID-19 infection. Please do not come if you are sick or have been recently exposed to someone with COVID-19. We strongly recommend wearing masks while inside buildings with crowds. Wearing masks in public indoor settings is not required by BC public health. Wearing a mask is a personal choice.
---
Asteroid Hunters – IMAX Theatre (admission applies)
Narrated by Daisy Ridley (Star Wars), Asteroid Hunters ventures into deep space for a fascinating look at asteroids, their cosmic origins and the potential threat they pose to our world.
Written and produced by Phil Groves, produced by Jini Durr and directed by W.D. Hogan, Asteroid Hunters introduces asteroid scientists – the best line of defense between Earth and an asteroid's destructive path – and reveals the cutting-edge tools and techniques they use to detect and track asteroids, and the technology that may one day protect our planet. The effects of an asteroid impact could be catastrophic and while the current probability of an event in our lifetime is low, the potential consequences make the study of asteroids an incredibly important area of scientific research. Witness the latest in planetary defense and how science, ingenuity and determination combine to explore the world's most preventable natural disaster.
Asteroid Hunters has a run time of 38 minutes and is presented by IMAX here in Victoria in association with Huahuang Pictures.
---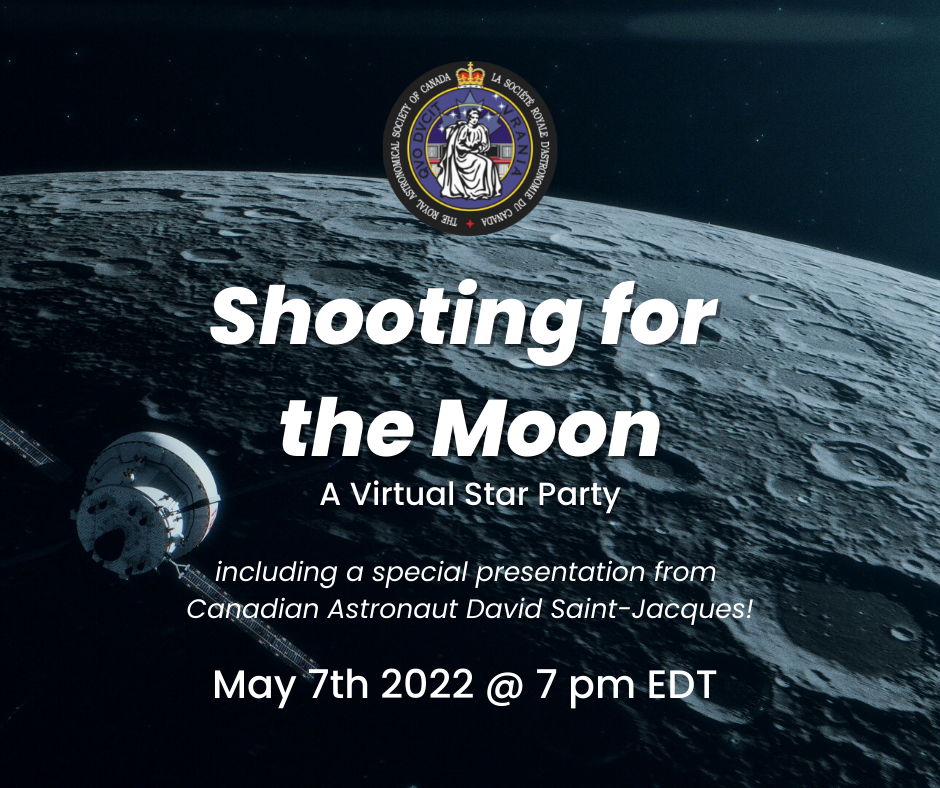 The party begins at 4 pm PDT on Zoom with a pre-recorded talk and a live Q&A with Canadian Astronaut David Saint-Jacques from the Rio Tinto Alcan Planetarium in Montreal! Following the Q&A, at 5 pm PDT, we will start our National Livestream on both Zoom and Youtube, featuring live views of the Moon from across Canada (including Victoria), RASC Member's moon content, and more! Register here
---
Observatory Hill, 5071 West Saanich Road, Saanich
Reserve Your Tickets (free) – only ticket holders will be admitted to this evening event. (Daytime events at the Museum do not require tickets!)
Plaskett telescope tours
Observing through telescopes
Presentation – 8:30PM & 9:30PM – The Hubble Space Telescope and the James Webb Space Telescope – Dr. Chris Gainor

Summary: The stories of the two largest space telescopes: The Hubble Space Telescope, which was launched in 1990 and is still operating after 32 years, and the James Webb Space Telescope, which is about to begin operations in space after its launch last December 25.
Biography: Christopher Gainor is a historian of technology specializing in space exploration and aeronautics. He has written four books on the history of space exploration and two on Cold War history. His most recent book is a history of Hubble Space Telescope operations published by NASA. Gainor is editor of Quest: The History of Spaceflight Quarterly. From 2018 to 2020, he was President of the Royal Astronomical Society of Canada, and he is a fellow of the British Interplanetary Society. Gainor holds a Ph.D. in the history of technology from the University of Alberta, and has worked as a history instructor at the University of Victoria and the Royal Military College of Canada.
---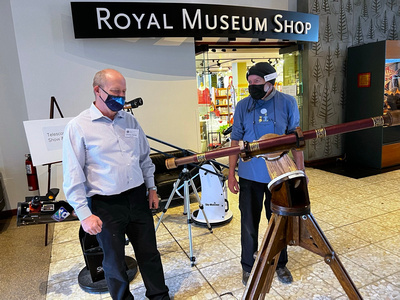 ---
Press Coverage